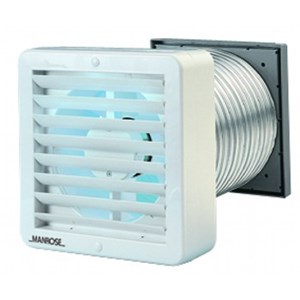 Bathrooms
Manrose FAN0136 Classic XP150A Thru Wall Extraction Fan Auto Shutter
Product code MANFAN0136
$225.66 +GST
Securimax Manrose Through Wall Mounting Fan Kit designed to be ducted straight through an exterior wall .
Efficient and easy to install.
Axial fan complete with ball bearing motors to prolong the life of the motor
150mm
Performance:  871/s, 313m3/hour
Fan cut out size 160mm
Exterior grille - grey gravity shutter
Duct type - aluminium semi-rigid,  375mm length
Grille fascia size 200mm x 200mm x 27mmD


Switched models -- switched from remote wall switch -- not supplied (choose from your preferred range of switches under Switches & Sockets)
Pull Cord models -- Integral pullcord switch on fan
Timer models -- Fan operates from a switch, the fan continues to run for a pre-set time after switching off - adjustable 1-20minutes.  Requires 3 wires: permanent phase, siwtched phase, neutral.
Auto Shutter - Electronically operated louvre shutters open automatically when fan is running - prevents back-draughts.

Kits are designed for use where the wall thickness is at least 110mm or greater.
LOW VOLTAGE fans also available - please ask
5 YEAR WARRANTY